Chase has gotten super into comics since we've taken him for his first visit to a local comic book shop, Amazing Fantasy Comics. For Halloween Comicfest 2014 we entered him into the costume contest, which is now open for
voting
. Grand prize (2 winners, one adult/one child) will win a $500 comic book shopping spree. Second Place is a $100 shopping spree to 50 random entrants (five adults/five children for each category). And finally a sizeable comics prize pack selection to the voter's picks (five adults/five children in each category).
Voting
is now through November 9th. Chase is in the Original costume category, he isn't a specific character, it was his idea.
Reignson
/
silverbane
did the paint job. He also blackened the boots and belt and made the holster for the potions. The potions are a mix of corn syrup and pigments and fine glitter.
I Googled it a lot, looking for the pin I followed the instructions for
Found this
DIY Harry Potter Potion
on Pinterest, though mine is different. I used
Jacquard Pearl EX
pigments (I ordered Set 3 but received Set 2, so be wary if you purchase them that seller may mix them up, I liked it so kept it). The pigment is a very fine powder and only a small amount is needed. I scooped out as much as would fit on a skewer, then stirred it in. The blue also has Martha Stewart glitter, the glitter separates but the pigment does not. I swirl the blue bottle around a bit instead of shaking so I don't get air bubbles, the cork is glued in. I've seen potions and fidget bottles made using water, clear glue and glitter. This suspension is thicker and the fine powder doesn't ever separate, it is now the third and still not settled. My pigments are metallic, the yellow looks like liquid gold.
For the
Wizard's Hat
, I watched this video tutorial by
CraftGyver
on YouTube. I didn't exactly 'follow' the steps, I went by the directions on the fusing interface, which was way more difficult than the video. My interface was double sided and medium firmness. I think I have enough material left over and another type of interfacing, much less firm and not fusing. So, I might make myself a wizard hat as well. I made an additional wand, but it's not finished yet.
The flash makes the fabric look bluer than it is. It is closer to the color of the link fonts on this skin, a teal blue. It's a satin fabric from JoAnn Fabric's costume section. The lining is some black fleece I've had forever. I've found if it is ironed, it is like a faux suede and so soft. The jerkin is made from the scrap material bin at JoAnn's, it is a padded quilted fabric, perfect for padded armor! The trim is gold metallic ribbon, which one roll was just barely enough. Eep. Good thing I didn't try to trim everything.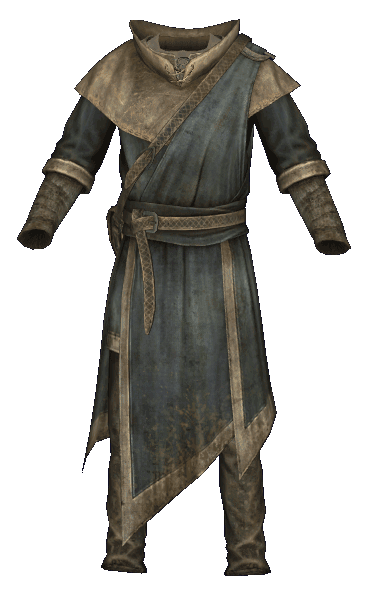 Skyrim Apprentice Robe inspired design
Most of the supplies, I already had, so I only spent just under $30 at JoAnn's. I had coupons, plus a teacher discount. Here's a full list of all supplies. Total time from designing, cutting out patterns to completion was about 5 days over a 2 week period. Nearly killed my poor sewing machine on the potion holder (it has cereal box for the backing).
3 yards of matching satin fabric
1 yard contrasting satin fabric
<1 yard of padded quilt diamond fabric
3 yard roll of ribbon/trim
double sided fusing interface medium
2 glass bottles with cork
corn syrup
pigments
fine glitter
chopstick
hot glue
seed beads
spray paint
acrylic paint
cardboard tubes
masking tape
cereal box
shoe black
old belt
snow boots
newspaper (for patterns)
November 2nd - November 9th
Halloween Comicfest 2014